Posts for tag: teeth whitening
By Daniel Brengman DDS, PA
July 01, 2021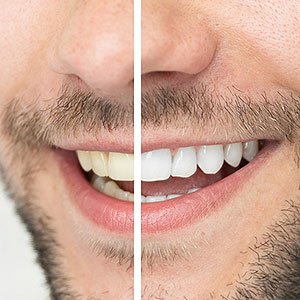 Picture yourself with a beautiful smile…what do you see? Besides straight and uniform teeth framed by the gums, you should also see one other thing indicative of a great smile—your teeth an attractive shade of translucent white.
But as you age your teeth can begin to dull as the enamel loses its translucency and the underlying dentin thickens and yellows. You no longer have the bright smile you once had in younger days.
But if the discoloration is mainly on the outer enamel, teeth whitening could be your answer for regaining your youthful smile. This is a procedure in which we apply a solution containing a bleaching agent (usually hydrogen peroxide) to your teeth. Aided by heat or light to activate it, the solution can temporarily whiten the enamel.
Teeth whitening isn't an exclusive treatment provided by a dentist—there are a number of retail products that enable you to bleach your teeth at home. But there are distinct advantages to having your teeth professionally whitened.
For one, we can control the level of brightness by adjusting the strength of the bleaching solution. This allows you to achieve the kind of look you want—from a more natural and subtler shade to a more dazzling color often called "Hollywood White."
Any external teeth whitening application will fade with time, regardless of whether they're professional or DIY. But a dental office whitening may last longer due to our stronger solutions and curing techniques. And, by caring for your whitening (by avoiding tobacco and food items that stain teeth) and obtaining occasional touch-ups in our office, the shine could last for a few years.
Again, this particular whitening technique only works with outer staining and yellowing. If your discoloration originates from inside the teeth, you'll need a more invasive method. And your teeth should be reasonably healthy before undergoing whitening.
All in all, though, teeth whitening is an easy and affordable way to brighten your smile. It could help you take years off your appearance.
If you would like more information on teeth whitening, please contact us or schedule an appointment for a consultation. You can also learn more about this topic by reading the Dear Doctor magazine article "Teeth Whitening: Brighter, Lighter, Whiter…."
By Daniel Brengman DDS, PA
November 24, 2019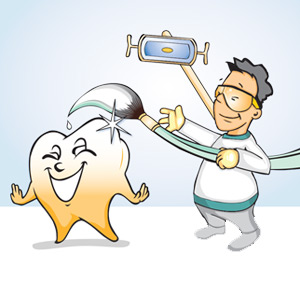 Whether performed in a dental office or using a home kit, teeth whitening applications are quite effective for bleaching exterior (extrinsic) stains on enamel surfaces. But what if your discoloration comes from inside the tooth? In this case, extrinsic teeth whitening won't work — you'll need to undergo an "internal bleaching" method, which can only be performed in a dentist's office.
There are a number of causes for "intrinsic" staining, including too much fluoride exposure or tetracycline use during childhood. One of the more common causes, though, occurs from root canal treatments used to remove the remnants of the pulp tissue inside a tooth's pulp chamber and root canals. Certain cements used during the procedure to help seal in the filling material and leftover blood pigments can cause the tooth to darken over time.
To alleviate this discoloration, we use a bleaching agent, usually sodium perborate mixed with a diluted solution of hydrogen peroxide to achieve a safe, accelerated color change. After determining that the root canal filling is still intact and the bone is healthy, we create a small cavity in the back of the tooth to access the pulp chamber. The chamber is cleaned of any debris or stained material and then thoroughly irrigated. The original root canal filling is then sealed off to prevent leakage from the bleaching agent.
We then place the bleaching agent in the cleaned-out space with a cotton pellet and seal it in with a temporary adhesive. This step is repeated for several days until we achieve the desired shade of white. Once that occurs we then seal the dentin with a more permanent filling and then restore the cavity we created with a composite resin bonded to the enamel and dentin.
If we're successful in achieving the desired color, intrinsic whitening could help you avoid more costly options like veneers or crowns for an otherwise healthy and attractive tooth. The end result would be the same — a beautiful smile without those unsightly stains.
If you would like more information on treating internal tooth stains, please contact us or schedule an appointment for a consultation. You can also learn more about this topic by reading the Dear Doctor magazine article "Whitening Traumatized Teeth."